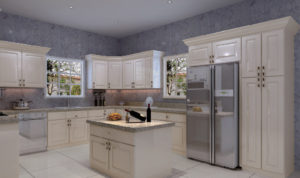 When planning your kitchen remodeling in Fort Lauderdale, it's often helpful to take a look at what other people are doing. Even if you don't use their ideas, they can often lead to other insights you can apply to your project.
Here are some of the most popular kitchen remodeling Fort Lauderdale trends that we have seen in the past several months
Kitchen Remodeling Fort Lauderdale — All-White Everything
White has always been a popular color choice for cabinets, countertops and even flooring. But many homeowners today are going to an all-white kitchen.
Not only does an all-white kitchen look ultra modern, but it also looks clean, especially when everything is sparkling and new.
The problem is that keeping an all-white kitchen looking that way can be a challenge, especially if you have children and/or pets.
Kitchen Remodeling Fort Lauderdale — Hardwood Flooring
According to a recent survey, a majority of homeowners who bought a new home that didn't have hardwood floors said they would be willing to pay thousands to have them installed. And about 80 percent of homeowners said hardwood floors were "somewhat" or "very important" to them.
While non-traditional, hardwood floors in kitchens are becoming increasingly popular. It helps improve the flow with adjoining rooms that also have hardwood floors, and its tough enough to stand up to the abuse that most kitchen floors take.
Kitchen Remodeling Fort Lauderdale — Shaker Style Cabinets
Shaker-style cabinets offer simple frame and panel design that helps simplify kitchens, improving warmth and coziness.
They also never really go out of style. So installing Shaker-style cabinets today could improve the resale value of your home when you are ready to sell in the future. They also will make it less likely that your kitchen will look outdated.
Kitchen Remodeling Fort Lauderdale — Carrara Marble Countertops
Another timeless classic is Carrara marble countertops. They will look just as impressive in your kitchen decades from now as they do the day they are installed.
Add subway tile for your backsplash and you will have a stylish, modern kitchen that will hold its value for a long time to come.