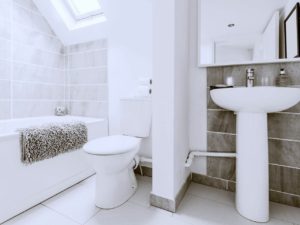 Does it seem like the cabinets in your bathroom tend to wear out faster than those in your kitchen or other rooms? That's because they do!
Bathroom cabinets take a lot of wear and tear that other cabinets don't. Some of that has to be what you are using them for, but it also has to do with the dynamics of the bathroom space itself.
Bathroom Remodeling Fort Lauderdale — Elbow Room
Bathrooms are typically the smallest rooms in the house. Master baths can be spacious, but second, third and bathrooms that are added later tend to be squeezed in pretty tight.
So bathroom cabinets often bump up against each other. In other words, if you were to open multiple cabinets at once, the doors would probably bang against each other … which seriously depletes the useful life of the hardware holding them in place.
Bathroom Remodeling Fort Lauderdale — Bulky Items
Then there are the things we store in our bathroom drawers, which include appliances like curling irons, blow dryers, and other large, bulky items that can beat up drawers and cabinets pretty quickly.
Then there is the physical size capacity of the bathroom. Most don't fit more than one person comfortably. So if there are multiple people competing for space while getting ready for the day, it can add to the wear and tear.
Bathroom Remodeling Fort Lauderdale — Updating Your Bathroom
All of these things are useful to keep in mind when designing your bathroom renovation.
It's a good idea to give yourself more room than you think you will need. This helps avoid the problem of overcrowding and can significantly cut down on the damage and abuse your bathroom takes.
Fixtures like toilets, sinks, and showers usually can't be scaled back. But you can often make up some room by making cabinets and closets a little tighter.