Capturing the Light Can Brighten Your Kitchen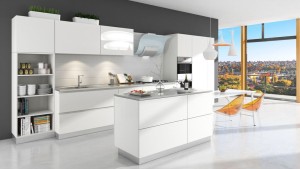 When remodeling any kitchen, one of the first things designers will ask is "Where are the windows located?"
What they are really asking is how the kitchen gets natural sunshine and light to illuminate your kitchen and provide the kind of glow that can enliven your home's most important room.
In fact, many homes are built so that the kitchen has either a westerly or easterly exposure, so it can capture the light of the setting or rising sun.
Kitchen Remodels West Palm Beach – Let There Be Light
One of the best things about remodeling your kitchen is that it gives you the once in a lifetime opportunity to make big changes to the way it looks.
If your kitchen has small windows that don't allow enough natural light into it, or if it is entirely windowless, your kitchen renovation could be your one and only chance to open it up to bright, beautiful sunlight.
Even if your kitchen doesn't have any exterior walls on the east or west side of your house, you may still be able to add a skylight, or bring more light into your kitchen from a picture window in another room by tearing down or moving a wall.
Kitchen Remodels West Palm Beach – Natural vs Artificial Light
While you can always make your kitchen by adding more or stronger artificial light, they don't compare to natural light.
Direct sunlight from the sun offers the warmest, most comforting type of light for your kitchen. No wonder so much food photography is done using natural light over artificial light sources.
Enlarging an existing window or cutting a new one into the exterior wall of your home to give your kitchen more light will definitely add to the cost of your renovation. But it's one investment that will be more than worth it as you enjoy the benefits over time.
About CK Cabinets