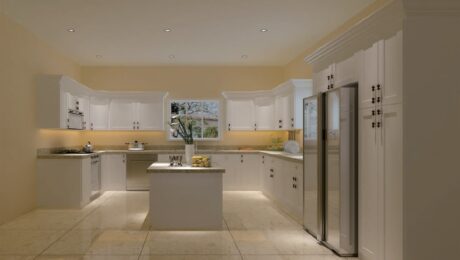 Homeowners considering new kitchen cabinets have a lot of choices to make. There is the size, the style, the type of wood finish, and even whether they want box cabinets or custom cabinets.
But one of the most important decisions homeowners have to make has to do with the brightness of the cabinets. Typically, kitchen cabinets will remain in place for a long time. Sometimes, the same cabinets will hang in the kitchen for decades, through several different owners.
So if you pick cabinets that are too light or too dark, it's a decision you may have to live with as long as you live in your home.
Kitchen Cabinets West Palm Beach — Cabinets that Are Too Light
Trends come and go in kitchen design. Right now, there is a movement toward lighter colored, modernistic cabinets.
The problem with light cabinets is that they can show dirt more easily. This is especially true if you have pets or small children living in your home. Unless you are prepared to constantly be cleaning smears, stains, and other dirt from your cabinets, you may want to consider something a little darker.
Kitchen Cabinets West Palm Beach — Cabinets that Are Too Dark
At the opposite extreme are cabinets that are stained a dark color, or even black.
The problem with dark colored cabinets is that they can make the kitchen look dark even in broad daylight. And if you have only limited sunlight in your kitchen — such as with a southerly or northerly exposure — you may never be happy with the amount of light the room gets if you have dark cabinets.
Kitchen Cabinets West Palm Beach — Just Right Cabinets
Many homeowners will compromise with cabinets that are neither too light nor too dark.
While these cabinets may not be the latest, most fashionable style, they often will pass the test of time and provide years or even decades of use without looking dated or causing other problems.