Box Cabinets vs Custom Cabinets: What's the Difference?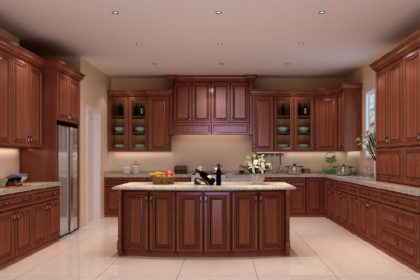 Most people don't shop for new kitchen cabinets very often. So when they do, it can be confusing.
For example, there are standard cabinets and there are custom cabinets. As the name implies, custom cabinets are made to order to fit a specific space. But standard cabinets remain an option for most kitchens regardless of their size.
Confusing? You bet!
Custom Cabinets Florida — What Are Box Cabinets?
Standard cabinets, also known as box cabinets, come pre-built in standard sizes. There are standard above-counter cabinets, standard under-counter cabinets, standard pantry cabinets and more.
These standard cabinets can be arranged in a near-infinite variety of combinations to fit any kitchen space. Because most kitchens are built according to similar parameters, the type of standard cabinets you can find at any home improvement store or discount cabinet warehouse will probably fit your kitchen.
Box cabinets are called what they are called because they essentially are wooden boxes. Customers typically will pick the exterior facing that fits on the outside of these boxes, which are then hung on their kitchen walls. The facings come in a variety of wood types, textures, and colors.
Custom Cabinets Florida — Why Choose Custom Cabinets?
If standard box cabinets fit just about any kitchen space and are typically less expensive, why would anybody choose custom cabinets?
The reason is that custom cabinets look better, fit better, and retain their value much better than inexpensive box cabinets. And in many cases, they don't even cost that much more than standard cabinets.
When you choose custom cabinets, they are made to order to fit your specific space requirements. You also can choose any type of wood, any style, and even whether you want the wood you choose to go all the way through your cabinets or just the outside surface.
Even though most people don't buy kitchen cabinets very often if you are armed with the best information you can make the best choice for your specific needs.
About CK Cabinets