Add New Appliances to Your Kitchen Remodel Jacksonville Fl Shopping List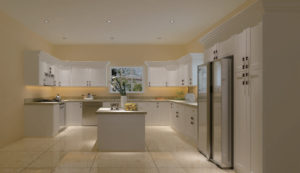 If you are doing a kitchen remodel in Jacksonville Fl, it's not always a good idea to try and save a little money by not replacing your current appliances.
Why not? Because once your remodel is finished and you see your new kitchen, your old refrigerator, stove, dishwasher, and other appliances are just going to disappoint you. The last thing you want is to be unhappy when your new kitchen is unveiled.
Kitchen Remodel Jacksonville Fl — Finishing the Job
Honestly, most homeowners who do a kitchen remodel in Jacksonville Fl and who opt not to replace their appliances as part of the project usually go ahead and get new appliances a short time after the job is finished.
You're getting a brand new kitchen. So it only makes sense to get brand new appliances to go along with it. Without them, it usually seems like the job's not completely finished.
Kitchen Remodel Jacksonville Fl — Built into Your Budget
Depending on what type of appliances you buy, the cost of a new stove, refrigerator, dishwasher, and microwave are usually the smallest part of your investment in a kitchen remodel Jacksonville Fl.
While there are some appliances that cost thousands of dollars, most don't have price tags that high. If you compare shop, you can often find top-quality kitchen appliances at relatively affordable prices. Unless you want restaurant-grade equipment, you can usually get what you want without breaking the bank.
Kitchen Remodel Jacksonville Fl — A Better Finished Product
Take our word for it: Keeping your old appliances isn't where you want to save money on a kitchen remodel in Jacksonville Fl. You probably will end up buying new appliances down the line anyway.
So if you build the cost of new appliances into your budget, you can get everything you want and be completely thrilled with the final project once it's done.
About CK Cabinets