Wednesday, 06 September 2017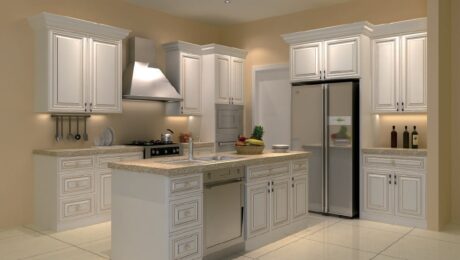 One of the worst experiences any homeowner can have is spending thousands of dollars updating their kitchen cabinets and then walking into the home of a friend or neighbor to discover the exact same cabinets hanging in their home.
This nightmare scenario can be avoided when you have Florida custom cabinets installed in your kitchen by CK Cabinets.
Florida Custom Cabinets — You Choose It All
Most homeowners use standard cabinets, or box cabinets, when renovating their kitchen. These are the type of cabinets you can find displayed at any big box home improvement store or in the cabinet showroom of most commercial cabinet businesses.
The benefit to using standard cabinets is cost. They typically are cheaper than custom cabinets. Another benefit is availability. Most cabinet warehouses have shelves filled with box cabinets stacked to the ceiling.
But the drawback is uniqueness. When you install box cabinets in your kitchen, you are getting the same kitchen as hundreds or even thousands of other homeowners.
Florida Custom Cabinets — Benefits of Choosing Your Own
Custom cabinets are made to order. That means they are built specifically to the dimensions of your kitchen. So there is no "making them fit" like there is with standard box cabinets.
You also get to decide the exact finish you want for your cabinet faces so you can match your existing flooring, paint, and decor. Or you can create an entirely new kitchen based on your own unique vision. With custom cabinets your only limitation is your own imagination.
Florida Custom Cabinets — Making Your Home Unique
When you finally show off your new kitchen to your family, friends, and neighbors, you want them to be impressed. It's not going to be impressive if you use the same cabinets as hundreds of other people.
Florida custom cabinets allow you to bring your own unique vision to life.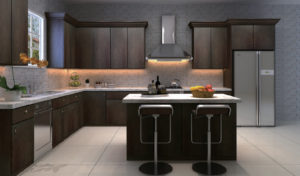 For most homeowners, the process of updating their kitchen is a brand new experience. And it comes with a steep learning curve.
They have to learn about things like developing a new floor plan, coming up with decorating ideas and picking out new kitchen cabinets.
When it comes to learning about Florida custom cabinets, Creative Kitchen can help. We have years of experience and have helped hundreds of homeowners design and create their dream kitchens. And we can help you, too.
Florida Custom Cabinets — Pre-Fab vs Custom
Lesson One is the difference between box cabinets and custom kitchen cabinets.
If you take a trip to your local home improvement mega-store, you will see examples of prefabricated cabinets. Most are made from inexpensive, standard-sized materials that are designed to fit into most cookie cutter kitchens.
When homeowners pick out pre-fab cabinets, what they are really choosing are the exterior finishes that go on top of these plain wooden boxes that are built in a one-size-fits-all style.
Florida Custom Cabinets — A Better Option
Prefabricated cabinets are built to fit most kitchen sizes. But if they don't fit, the person working in the big box home improvement store will figure out a way to make them fit as well as possible. The results may look good on the computer simulation in the store, but are often disappointing once they are installed.
Custom cabinets are exactly that: Custom built to fit the dimensions of your specific kitchen. They are made from superior materials, are sturdy and long-lasting, and are created according to your individual vision of what your kitchen should look like.
Best of all, Florida custom cabinets from Creative Kitchens are affordable. In some cases, they can cost the same or even less than boxy, pre-fab cabinets from the giant home improvement chains.
If you want your dream kitchen to look exactly the way you envision it, get Florida custom cabinets from Creative Kitchen.