Kitchen Remodeling in Weston
For the Best Kitchen Remodeling in Weston, Choose CK Cabinets 
When it comes to kitchen remodeling in Weston, there's CK Cabinets and then there is everybody else.
That's because CK Cabinets has built its reputation by providing South Florida contractors and homeowners with top-quality cabinets, flooring, countertops, and other kitchen renovation products. We also offer some of the finest customer service in the industry and competitive prices that are second to none.
Kitchen Remodeling in Weston
Whether your kitchen needs a complete overhaul or simply a minor facelift, CK Cabinets is the top choice for residents of Fort Lauderdale, Boca Raton, and throughout South Florida.
We have the latest styles by the best kitchen designers in the industry today. Plus, our expert kitchen designers can help translate your dream kitchen into reality. If you can imagine it, we can help you build it … and probably for far less than you expected to pay.
We are the experts at kitchen remodeling in Weston that you can rely on for all of your kitchen renovation needs, including new cabinets, countertops, flooring, and much, much more.
Before and After – Kitchen Remodeling in Weston
Not sure if you even need a new kitchen? Try this simple test that we like to call the CK Cabinets Challenge: Go into your kitchen, pull up a chair, and simply spend a few moments looking around.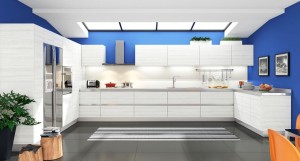 Do you like what you see? Is there anything you would like to improve? What looks old or tired? Has anything been updated since the day you moved in?
When it's time to remodel your kitchen, most homeowners usually can tell right away. Their kitchen doesn't thrill them the way it once did. Or perhaps there's not enough room for all their stuff. Or it could be something as simple as their lighting doesn't look bright enough.
Whatever it is, the solution is simple. Let the experts at CK Cabinets work with you to create the modern, state of the art kitchen you've always wanted.
For all of your kitchen remodeling in Weston needs, your first, last, and only choice should be CK Cabinets. We've already helped hundreds of your friends and neighbors create stunning kitchens they can proudly display. We can help you, too.
Take the CK Kitchen challenge. If you don't like what you see while spending some quality time assessing the current state of your kitchen, give us a call. We'll be waiting!